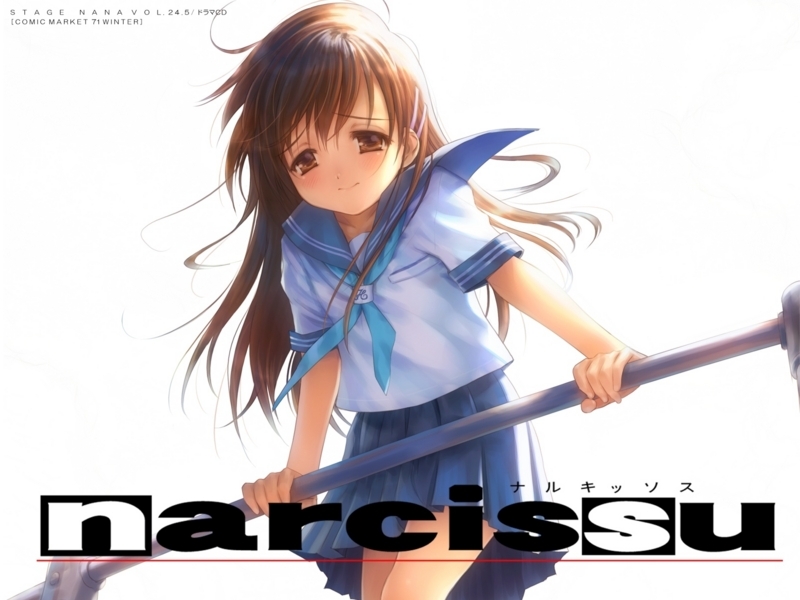 Narcissu is entitled without the final character 's' of "narcissus", which means a hope to reduce the number of suicides.
This book is worth even if you read only three pages, I think. Even though diction and grammar are sometimes wrong, there is a certain reason that entertainment works make a capacity for another cultural expression at the front, and this story is no doubt convincing. Words Setsumi and Atou say plead for us very strongly.
Originally this novel was derived from a video game which has the same title Narcissu. It has been released as a free software so that we can download without any restrictions, which enables it to be translated into various languages to release. As a consequence, Narcissu has been regarded as a masterpiece over a million downloading. The novel Narcissu, having another perspective, begins with Stsumi's monologue.
My mother began a part-time job nearby.
I could understand what that means.
……
We moved to the house, old and a bit sullied, made of wood.
Here is small. In addition, it took my father over two hours to his office.
In contrast, it takes me three minutes to the hospital.
Looking at such small and miserable apartment, he said,
"Good air and comfortable here."
And smiled. My mother did so, too.
……
"Your fault."
I might want them to say so.
She doesn't mention at all fear for death or hope for life. What she refers to here is of the money for her living in the hospital for over ten years, consideration for her parents burdened with hard-working, and so on. This is why I'm fond of the story. In spite of hope to see their daughter and do something for her, they have to work in order to make money for a medical bill in advance of everything. As she says, if her parents break down, her daily life cannot be maintained. Ignoring the fact that she forces them to confront such condition, she can never say anything she wants to do. And the figure of her parents living with a will is so much impressive, because we do know that our life doesn't consist of what we want, but what we should do.
Bearing in mind such considerate character of Setsumi who always cares about her parents, most of us cannot help accepting her decision, that is, her 'selfish' behavoiur. The author take a incurable disease as the serious theme in order to offer readers Setsumi's decision. It's impossible for us to deny her choice utterly in view of her deeply anxiety for her parents (In this part, a narrator who has a critical view towards her decision is set for keeping its balance. This attempt is prominent.). And then, Atou, having the same disease as her and being with her at her last moment, notices his significant role he should play until he dies. He provided to 7F the meaningful life she couldn't find.